This newly released premium feature provides AGR customers with enhanced analytics capabilities, enabling them to unlock valuable insights and make informed decisions. Another important aspect of this is that you can now trial and test AGR and prove how useful this solution would be for your organisation!
Let's delve into the details of this exciting development!
Unlocking the Power of Integration & Empowering Users:
AGR's API integration with Power BI is set to revolutionise the way customers interact with their data. By downloading a dedicated app from the Power BI app marketplace Power BI users can seamlessly connect their AGR account with Power BI. This integration offers a convenient and efficient method for customers to extract, analyse, and visualise their AGR data within the familiar Power BI environment.
With the integration of AGR's API, Power BI users gain access to a comprehensive set of key performance indicators (KPIs) specific to them. These KPIs include:
1.       Inventory Turnover:
Measure the rate at which inventory is sold or consumed within a specific period.
2.      Stock Levels:
Gain insights into the current stock quantities and monitor any fluctuations and both overstocked and understocked products.
3.      Service Levels:
Assess the ability to meet customer demand and maintain high levels of customer satisfaction.
4.      Overstock Levels:
Identify excess inventory levels that may lead to inefficient resource allocation and increased costs.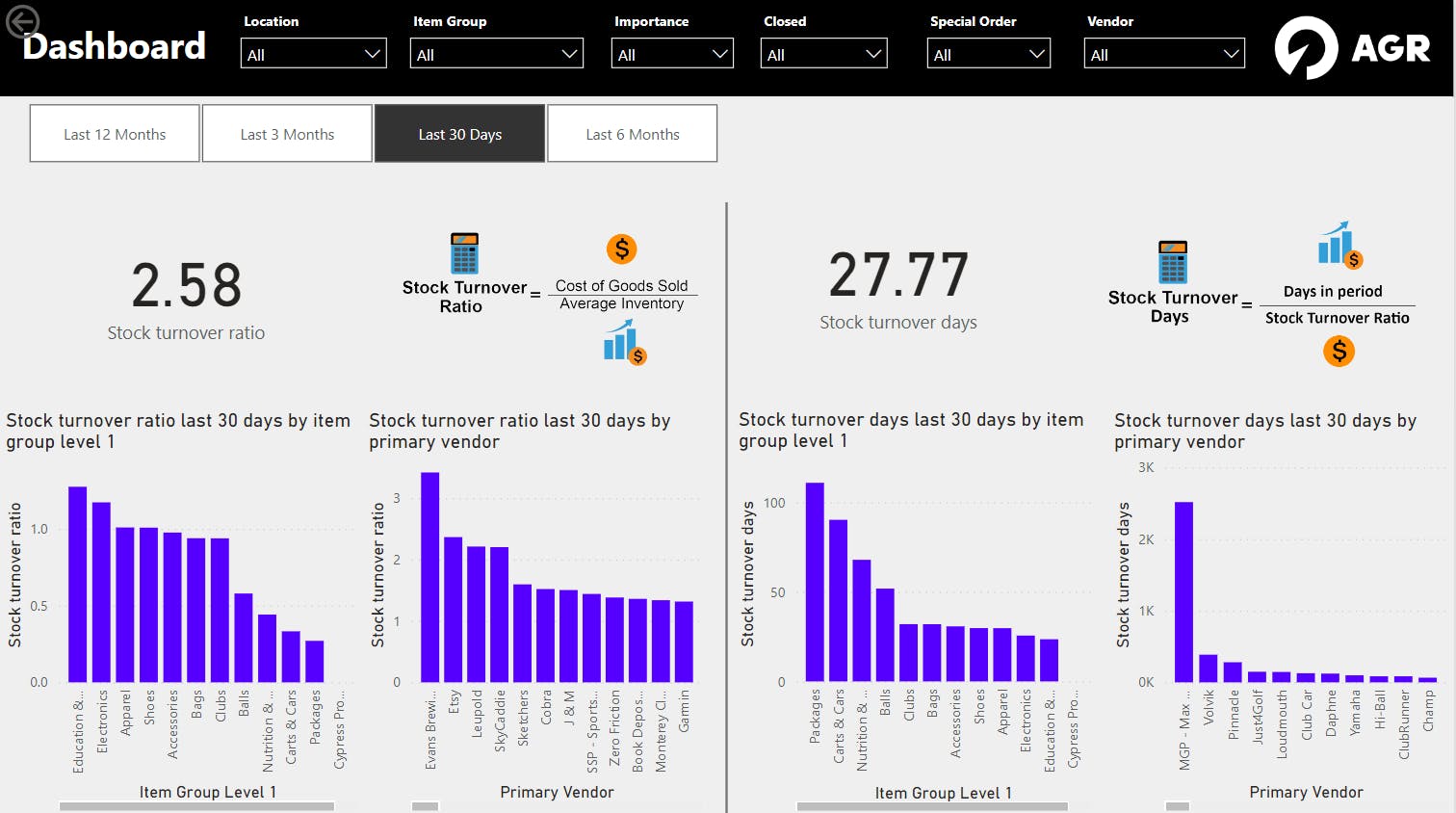 Enhancing Data Visualisation:
AGR's API integration allows users to view their stock health on a daily basis, presenting data in an intuitive and visually appealing format. With the ability to analyse stock data trends and patterns, customers can make timely adjustments to their operations and optimise their supply chain management processes.
Customisations for Tailored Insights:
For customers seeking a personalised data analysis experience, AGR offers the possibility of customisations. This option allows businesses to tailor their dashboards and reports within Power BI to align with their unique requirements. By incorporating specific metrics and data, customers can gain deeper insights and uncover hidden opportunities within their data.
Data Updates and Real-Time Access:
Unlock new levels to your data. While AGR's API integration provides customers with powerful data analysis capabilities, it's important to note that data updates occur overnight, not in real-time. This means that users can access the most recent data each morning, enabling them to make informed decisions based on the latest information available.
AGR's development of an API to export data into Power BI represents a significant milestone in empowering customers with advanced data analytics tools. By seamlessly integrating AGR's data with Power BI's robust visualisation capabilities, customers gain access to a comprehensive set of personalised KPIs. The daily visual representation of stock health and the potential inclusion of a forecast accuracy metric further enhance the value customers derive from AGR's platform. With the option for customisations, businesses can tailor their analytics experience, making it even more valuable for their specific needs. As AGR continues to innovate, this API integration sets the stage for improved decision-making and enhanced operational efficiency within your supply chain.
Our app is now live on Microsoft AppSource! Find it here.