In an ever-changing world, what we once thought of being clever no longer applies after a pandemic shook the world to its core followed by heightened tensions and war. This brought about a change in mentality, as what we once thought was being clever changed overnight and is now in need for a clarification.   
The same applies to the Global Supply Chain, the clever response to shortages is to fill, fill, fill. The thought behind this was: If we have it on the shelves, we can ride out the storm and maintain sales. But can you provide clarity on your inventory, are you confident that the stock sitting on the shelf is going to sell well and deliver high margins? 
This is where ABC classifications come into play across the supply chain – did you know 25% of your stock delivers nothing towards your bottom line, 50% delivers just 5% to profits. Can you be absolutely clear and sure that the excess stock sitting in the warehouse is not building a black hole?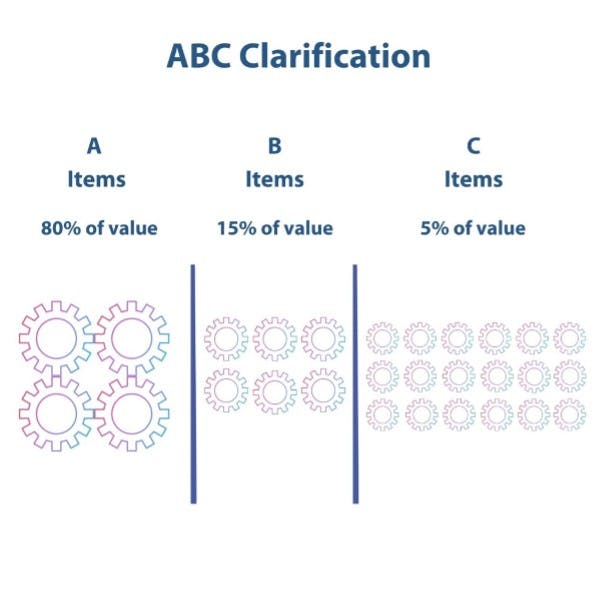 So, what is ABC and how can it help your supply chain? For a start, it is the analysis needed to give the necessary clarity based on priority and given criteria. ABC classification closely follows the Pareto Principle, or the 80/20 rule, where 20% of your inventory will deliver 80% of your margin.  
Products that are important and require tighter controls 
Products of lower importance but require medium control 
Products of lower importance that require simple control  
When taking the clever approach, once ABC is applied it is not unusual to find supply chains are understocked on A items and overstocked on C items. This puts a strain on the bottom line with wasted shelving costs, energy bills are on the rise along with carriage costs – all adding to an eroding bottom line.  
Once you have your inventory classified, it will create clarity across the Supply Chain to reduce inventory value, free up working capital, increase sales turnover through better availability as well as run a leaner operation. 
The question is how do you produce this clarity? In our experience we find Supply Chains that are managed through excel and manipulating data into ABC classifications can prove difficult – macros, formulas, and worksheets, not to mention the resources required to keep this up to date; and once the data is exported it is no longer live or accurate. 
This is where AGR Dynamics can help, by taking an overnight feed of Sales History from your ERP and applying our Forecasting engine with a clear view of your inventory, each SKU is classified with an ABC rating on metrics as chosen by the business such as: 
Turnover 
Margin 
Cost of Goods Sold (CoGS) 
Sale Quantity 
Number of Sales Lines 
Cost price 
Get in touch with us here to learn how we can provide the clarity you need across your Supply Chain.